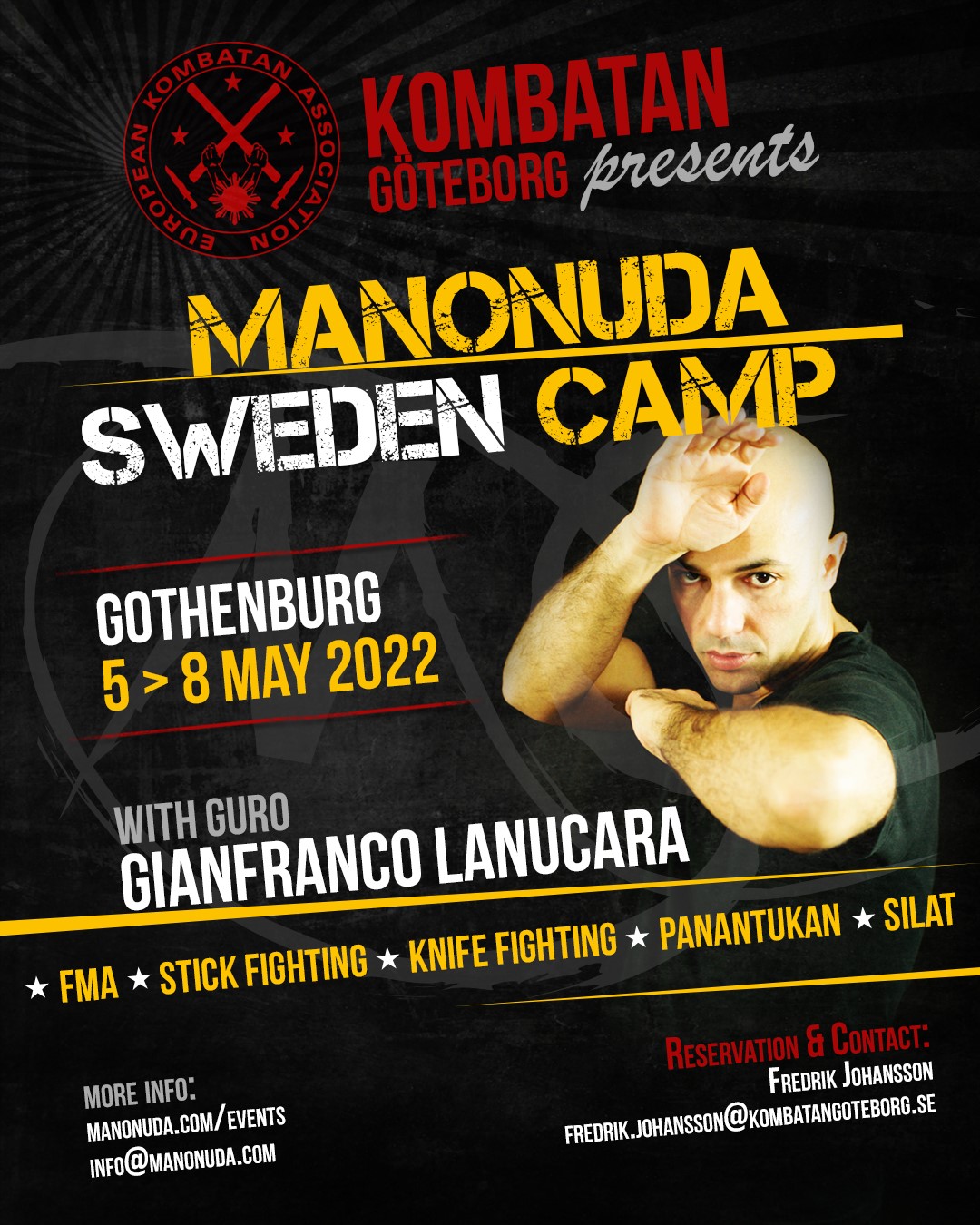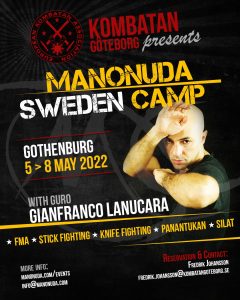 Last day of registration and payment is 28th Apr 2020! See below for details!
Camp Schedule
Please be present at least 15 min in advance prior to classes.
Thursday 5th May
19:00-21:00 Oscar Fredriksskolan / Silat & Self-defense
Friday 6th May
14:00-16:00 Frölundaborg / Daga sa Daga & Knife Defense
18:00-20:00 Oscar Fredriksskolan / Stick Fighting Medio & Panantukan
Saturday 7th May
11:00-13:00 Yamasaki Academy / Knife Defense & Panantukan
13:00-14:00 Lunch
15:00-17:00 Yamasaki Academy / Stick Fighting Long Range & Sparring
20:00- Dinner Downtown
Sunday 8th May
12:00-13:00 Yamasaki Academy / Palm Stick
13:00-14:00 Lunch
14:00-16:00 Yamasaki Academy / Stick Fighting, Knife Fighting & Pantantukan Recap
Equipment
Please bring doble baston, NOK knife, palm stick, MMA gloves, toothguard, groin protection, stickfighting helmet and gloves with you as we might have a limited amount for sale or loan.
Prices
Thursday 200:- SEK
Friday       500:- SEK
Saturday  500:- SEK
Sunday     300:- SEK
Complete Camp 1000:- SEK (500:- SEK discount)
Registration & Payment
Registration is confirmed by paying in advance to either our bank account or using Paypal. Payment is non-reversible, unless Camp is cancelled.
Money Transfer (Sweden)
Handelsbanken Bank account no: 807-4619, mark your payment with day(s), name.
PayPal
Venues
We will train at three different locations, all in the centre of Göteborg, with a few of the first training sessions at Frölundaborg sports facility, late friday we move to
our regular training place at Oscar Fredriksskolan and the weekend sessions will all be held just behind downtown Avenyn in Yamasaki Academy.
Contact
Send an e-mail to fredrik.johansson@kombatangoteborg.se for if you need more  information.
For more information on MANONUDA, visit their home page: