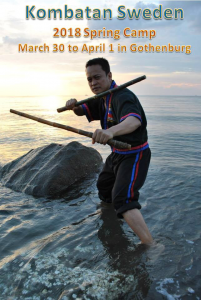 Once again we have the honor and privilege to host senior master Randy Remolin, 7 Dan Kombatan for three 3 days during Kombatan Göteborgs traditional Easter Camp! Do not miss out on the opportunity to train 11 hours of Kombatan with solo baston, double baston, daga, mano mano and espada y daga with a great master!
Schedule (Prel.):
friday 18.00-20.00 (2h)
saturday 10.00-17.00 (6h)
sunday 10.00-13.00 (3h)
Prices:
whole camp 700:- SEK
friday 250:- SEK
saturday or sunday 500:- SEK
friday and saturday 700:- SEK
Getting There
friday: Oskar Fredriksskolan, https://kartor.eniro.se/?index=yp&id=14334056&query=
saturday and sunday: Teatergatan 19, http://kartor.eniro.se/m/9kQUy
Application
Please send your application to info@kombatangoteborg.se, please note that the number of applications is limited.
For more information on Kombatan Italy, please visit http://www.kombatan.it.